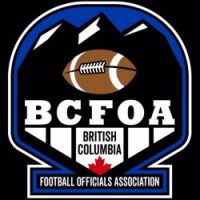 WELCOME TO THE
BC FOOTBALL OFFICIALS ASSOCIATION
We are the governing body for the British Columbia tackle football officials
BC FOOTBALL OFFICIALS ASSOCIATION
THE FEW, THE PROUD, THE STRIPED!!
British Columbia Football Officials Association (BCFOA) provides for the education, evaluation, and assignment of officials to all levels of tackle Football, minor to University throughout the Province of British Columbia.
(Exception is Lower Mainland Community Football) see  LMFRA Website
BCFOA is also responsible for providing sideline support and timing for all BC Lions home games. Several our members are current or former CFL officials.
BCFOA is dedicated to professionalism, consistency, accountability and transparency in meeting the needs of its members and those organizations we contract to provide officials.
We are always looking for people who have an interest and ability to become quality football officials. If you want to become involved and make a commitment to officiating, we welcome your participation.
For information on how to become a football official please visit our becoming an official page.
For general enquiries please email general@bcfoa.ca